DEADLINE EXTENDED TO 20 NOVEMBER "Becoming Agens". Synesthetic and Active Processes of Image Reception in the Middle Ages
Comunicazioni Sociali — Journal of Media, Performing Arts and Cultural Studies
"Becoming Agens". Synesthetic and Active Processes of Image Reception in the Middle Ages


Since the late 1990s, scholars have produced a number of studies on medieval visual and material culture that do not deal with images as aesthetic and supra-historical objects, but rather with the relationship they established with the beholder in a precise and situated cultural-historical context. In this regard, some studies have focused on the status of the image within Christian culture, showing that images were not only a mimetic device to be looked at, but more importantly a mnemonic device to be experienced (Barber 2002, Mondzain 2005, Guastini 2020). Others have explored the physical and material properties of images, emphasizing how the quality of the materials employed contributed to the meaning and experience of the image (Bynum 1995, Bonne 1999). Alfred Gell's (1998) studies on art agency and David Freedberg's (1989) work on response, for their part, have focused on how images affected their audiences and on how the viewers perceived and responded to images, including in physical and emotional terms. Recently, the concept of art's agency has evolved. It is now viewed as animation, shifting the focus of analysis to the vitality of images and material objects. This accentuates the epistemological and operational value of these imagines agentes (Carruthers 1995), which can be present and act as living bodies (Laugerud, 2023). On the other hand, the concept of response has expanded our understanding of the bodily dimensions of the visual experience, eventually going beyond a mere oculocentric model and leading to the concepts of empathetic or performative vision (Nelson 2007; Flora 2010), sensory or embodied experience(Stevenson 2010; Gertsman 2015) and sensorium (Laugerud et al. 2015), which affirm the reciprocal interplay between image and audience, both active participants in a complete, sensual, emotional and cognitive experience. 
Yet, only seldom have scholars applied the above-mentioned interpretive framework and tools to specific case studies, investigating the agency of images and material objects in particular contexts. In other words, there exists a significant risk that the theories developed will remain theoretical and untested in practical applications. Remarkable exceptions that demonstrate the potential of such an analysis can be found in the studies of Bissera Pentcheva on icons (2010). In the ritual and liturgical context of Byzantine churches, the author demonstrates icons become devices for the mimetic performance of the divine. This transformation occurs within that specific spatial and ritual context, facilitated by the interplay of light, scent, and gesture. Jacqueline Jung's work is another instance, as the author examines choir screens in Gothic Cathedrals in Western Europe (2013). Jung interprets the screens as integrated entities where various media resonate with each other, creating a complex visual-spatial environment. Here, the beholders engage with the environment through a process of embodied viewing, which involves physical presence and interaction between the material object and its audience.
While Alfred Gell already emphasised the concept of agency, viewing "art as a system of action intended to change the world", this special issue of Comunicazioni Sociali. Journal of Media, Performing Arts and Cultural Studies focuses on the interactions of images and material objects intended as "a recurring set of operations, which integrate the most diverse elements into their mode of working, give their components new functions and roles, and assign a new orientation to the whole" (Casetti 2019). We invite scholars to submit paper proposals addressing how an image or a material object becomes agens, active and even animated, and on the processes through which a visual device of representation becomes a performative device of multisensory perception.
The aim of this call is to achieve a collection of both case studies and theoretical reflections that can serve as valuable examples and references for the academic community.
Potential topics may include, but are not limited to:
the processes that activate an image by transforming it from a device for frontal vision into one for multisensory performance;
the material image as an environmental medium, intended as a located set of components, needs, practices, actors and circumstances that trigger a specific array of internal operations and a subsequent series of practices among believers;
the mechanisms of sensory agency of both mental and material images in relation to different contexts of use (prayer, meditation, sermon, ritual and liturgy, dramatised devotion);
the different performances that can be enacted by the same image and object as conditions and contingencies change, including modern and contemporary practices (such as museum exhibits) and transcultural reception and reuse of material objects;
the performances of the image in relation to individual and collective uses, including those of the present day;
the functioning and perception of images and material objects under conditions of sensory deprivation.
By Monday, 20 November 2023, please send to the volume editors Carla M. Bino (carla.bino@unicatt.it) and Zuleika Murat (zuleika.murat@unipd.it):  
full name, current affiliation (if applicable), and email address;
paper title of maximum 15 words;
abstracts of maximum 300 words; 
a biography of maximum 200 words;
three to five keywords.
Notification of acceptance will be given by Wednesday, 6 December 2023.  
Full articles (max 5.000 words, Italian, French and English languages) will have to be submitted by Saturday, 23 March 2024.
Expected publication date of the issue is October 2024.


"Comunicazioni Sociali" is indexed in Scopus and it is an A-class rated journal by ANVUR in: Cinema, photography and television (L-ART/06), Performing arts (L-ART/05), and Sociology of culture and communication (SPS/08).
Articolo letto 1763 volte.
Inserisci un commento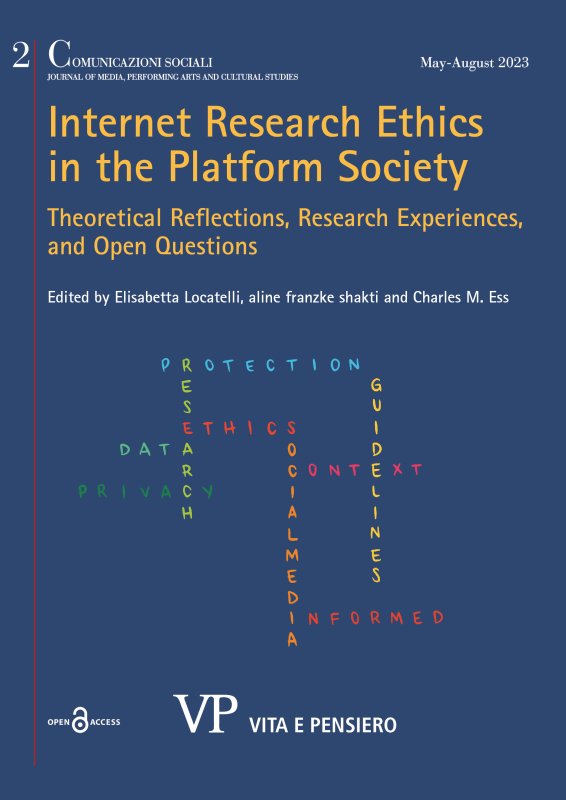 Ultimo fascicolo
Anno: 2023 - n. 2
Consulta l'archivio
Ultimi 3 numeri
Annate disponibili online
Fascicoli anno
2023