News
DEADLINE EXTENDED TO 20 NOVEMBER "Becoming Agens". Synesthetic and Active Processes of Image Reception in the Middle Ages
Edited by Carla Bino and Zuleika Murat

Since the late 1990s, scholars have produced a number of studies on medieval visual and material culture that do not deal with images as aesthetic and supra-historical objects, but rather with the relationship they established with the beholder in a precise and situated cultural-historical context.
Continua

>

90 Days of Uncertainty: Conflict, Communication & Sense-Making during the initial Phases of the Covid-19 pandemic in Italy and the United States
Edited by Matteo Tarantino, Manuel Chavez & Gaia Amadori

The initial phases of crises are marked by intense activities of meaning-making as stakeholders navigate uncertainties. However, most of their lessons can be acquired only with hindsight, with the appropriate analytical distance.
Continua

>

The Children Are Watching Us. Exploring Audiovisual Content for Children
Edited by Raffaele Chiarulli, Armando Fumagalli, Eva Novrup Redvall

Audiovisual content for children and young people has always been a very important sector within the creative industries from an economic and social perspective...
Continua

>

Internet Research Ethics in the platform society: issues and open questions/theoretical reflections and research experiences
Edited by Charles M. Ess, aline franzke shakti, Elisabetta Locatelli
Since the late 1990s, Internet Research Ethics (IRE) has emerged as a burgeoning field, fueled by an ever-growing variety of ethical challenges and concerns...
Continua

>

CfP: Gender and labour in the Italian screen industries: Critical research approaches and methods
Edited by Rosa Barotsi, Gloria Dagnino and Carla Mereu Keating
In the last twenty years, increasing scholarly attention has been devoted to the screen industries as a workplace and as a site of institutional and individual cultural and creative practice (e.g., Deuze 2007; Mayer, Banks and Caldwell 2009; Hesmondhalgh and Baker 2010). Studies in this field have often centred on film, television and audiovisual media production (e.g., Caldwell 2008; Barra, Bonini and Splendore 2016; Comand and Venturini 2021), although forms of labour in circulation, promotion and reception of media texts have also attracted interest (e.g. Loist 2011; Grainge and Johnson 2015; Fanchi and Garofalo 2018; Treveri Gennari et al. 2020). Within these studies, a number of scholars have interrogated and utilised gender as an analytic category in order to expose and criticise unequal and divisive labour dynamics (e.g., Foster 1997; Gaines, Vatsal and Dall'Asta 2013-; Bell 2021). The gendered division of labour and the systematic exclusion of female-identifying professionals in the screen industries persistently emerge as global, transnational issues (e.g., Gledhill and Knight 2015; Hole, Jelača, Kaplan and Petro 2016; Liddy 2020). In Italy, pioneering studies on women's labour in the audiovisual sector can be traced back to the 1970s (Bellumori 1972; Carrano 1977), but it is only in recent years that a gender perspective has been taken on more systematically, focusing on directors (e.g., Scarparo and Luciano 2010, 2013, 2020; Cantini 2013) as well as other above- and below-the-line professions (e.g., Dall'Asta 2008; Cardone and Fanchi 2011; Cardone, Jandelli and Tognolotti 2015; Buffoni 2018; Missero 2022).
Continua

>

Nuova modalità per l'invio dei materiali da pubblicare
Nuova modalità per l'invio dei materiali da pubblicare
Già attiva
Pregasi leggere con attenzione il contenuto
Continua

>

CfP: Cantautore: the Songwriter in Culture and the Media
"Cantautore" is a project that aims to reconsider the role and figure of the singer-songwriter in Italian and international culture.
The singer-songwriter is a mythical figure in popular imagination in different countries, a bridge between a variety and even contradictory forms of experience, both cultural and social. In the Italian context, it has been respectively interpreted in social history as a symptom of collective traumas (Bonanno 2009, Santoro 2010), and in popular music studies as a successful pop icon (Gentile 1979, Borgna 1995-2004), or as a genre (Fabbri, 1982) and – consequently - as an ideological construction (Tomatis, 2019). Only recently, has the transnational dimension of this phenomenon been stressed out and problematized further (Green and Marc 2013, Looseley 2013, Marc 2016).
Continua

>

CfP: Sustainable Screenings: Economic, Touristic and Cultural Impact of Audiovisual Productions on the Host Locations in the Post-Lockdown Era
In the last twenty years, the relationship between media production and places has been a key topic in the field of media studies. Despite that, in the post-lockdown world this relationship still needs to be properly investigated since nowadays it embodies new meanings that invite media scholars to redefine their understanding of how media may serve and/or impact places and vice versa.
It is widely known that film and audiovisual shoots can have a positive impact on the host location economy: more tax revenues, new employment and facilities, etc. Sometimes, film and audiovisual products stimulate tourism too, which implies once again economic benefits. In both cases, they feed local pride and contribute to re-define the image and status of the host places. In the framework of the post-pandemic recovery, these two capabilities are receiving even more attention than in the past: tourism, for instance, was one of the sectors that suffered most due to the health emergency, and its relaunch is at the top of the agenda of many public institutions. Thus, the current scenario moves film and audiovisual production at the center of the action plans for the post-pandemic economy and society. However, all the current recovery policies base themselves on the concept of sustainability, and this raises the question how film and audiovisual production meet the concept of sustainability.
Continua

>

Call for Papers "Migrations / Mediations. Promoting transcultural dialogue through media, arts and culture"
Migration has been a phenomenon throughout human history. However, as a result of economic hardship, conflict and globalization, the number of people now living outside their country of birth is higher than ever. It has also become a key focul point for the media. Even though irregular immigration constitutes only a minor part of the total immigrant population in the EU, it is the one most spectacularized by the media. This over-mediatization of the phenomenon leads to a consistent discrepancy between the perception and the reality of the issue, and this distance has favored the shift of migration issues from 'low politics' to 'high politics', fueling an emergency management and a securitarian approach.
Continua

>

COMUNICAZIONI SOCIALI - 2021 - 1. Arts-Based Research in Communication and Media Studies
La ricerca d'ambito artistico si sta affermando negli studi su comunicazione e media, allontanandosi da un focus esclusivo su testi scritti e presentazioni orali.
Questo numero speciale di Comunicazioni sociali è guidato dalla convinzione che si possa fare di più nella teorizzazione delle pratiche di ricerca nel settore e nella loro applicazione a diversi contesti.
Continua

>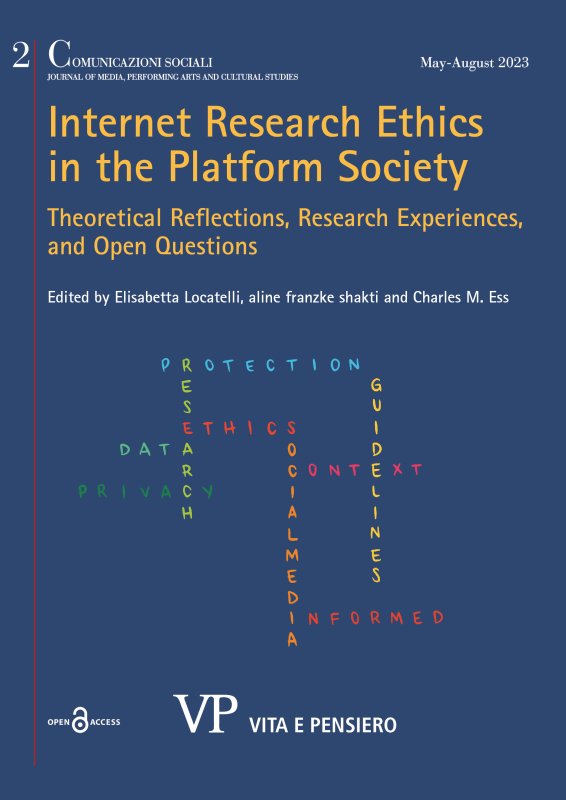 Ultimo fascicolo
Anno: 2023 - n. 2
Consulta l'archivio
Ultimi 3 numeri
Annate disponibili online
Fascicoli anno
2023