Practicing Internet Research Ethics: Challenges and Solutions from a German Perspective
novità
digital
Ebook in formato Pdf leggibile su questi device:
Good research practice faces both ethical and methodological challenges that cannot always be met at the same time. This is also true for the study of digital trace data and digital media. However, questions of Internet research  ethics (IRE) have so far played a subordinate role in German media and communication studies, especially regarding quantitative methods. Based on 24 semi-structured interviews with German media and communication scholars  with experience in the field of (quantitative) Internet research, the current study explores perceived ethical challenges and proposed solutions. We identified two central themes, mirroring the theoretical debate about (1) privacy and  informed consent and (2) minimizing harm. Overall, our results show that researchers have developed casuistic strategies to address the various ethical challenges in studying the Internet. These strategies are often based on  practical research experiences rather than training or available information. This indicates the importance of having an ongoing discourse about IRE, integrating research ethics training into higher education, and providing practical recommendations.


Practicing Internet Research Ethics: Challenges and Solutions from a German Perspective by Arne Freya Zillich, Daniela Schlütz, Eva-Maria Roehse, Elena Link, Wiebke Möhring is licensed under CC BY-NC-ND 4.0
keywords
Internet research; digital trace data; digital media; semi-structured interviews; Internet research ethics (IRE).
Biografia degli autori
Arne Freya Zillich, Film University Babelsberg KONRAD WOLF, Germany –
a.zillich@filmuniversitaet
. de; – Daniela Schlütz, Film University Babelsberg KONRAD WOLF, Germany –
d.schluetz@filmuniversitaet
. de; Eva-Maria Roehse, Technical University Dortmund, Germany –
eva-maria.roehse@tu-dortmund.de;
Elena Link, Johannes Gutenberg University Mainz – elena.link@uni-mainz.de; Wiebke Möhring, Technical University Dortmund, Germany – wiebke.moehring@tu-dortmund.de.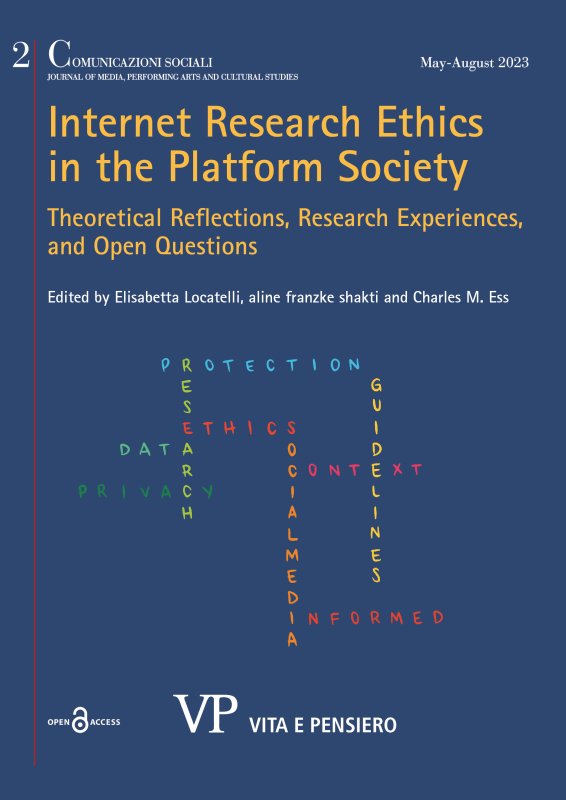 Ultimo fascicolo
Anno: 2023 - n. 2
Consulta l'archivio
Ultimi 3 numeri
Annate disponibili online
Fascicoli anno
2023