The 'Travelling Invention': New Practices of an Ancient Trade in Pippo Delbono's Theatre
digital
Ebook in formato Pdf leggibile su questi device:
This article proposes a "diffraction reading" that tackles one of the most successful and interesting theatrical experiences of the last decades in Europe, Pippo Delbono's work, using an evocative comparison with the professional way of life and trade of the Italian Commedia dell'Arte. There is no phylogenetic evolution from the old form, and Delbono's performances are certainly not among the many contemporary works that found outright inspiration in what has become a'mythical' genre. Still, the contemporary troupe in its "inexhaustible wandering", European identity and mutual solidarity between all its members, seems to collect some of the greatest legacies of those comici who were authentic foreigners that provoked and aroused disturbance in the public, attracting, bewildering and fomenting scandal. The comparative approach, centered on the core relationship between historical and contemporary scenes, seems also to give a contribution to the debate on contemporary theatre studies, placing present and past phenomena in a long-term perspective to avoid the risk of focusing solely on the present.
keywords
Contemporary theatre; professional theatre; Commedia dell'Arte; troupe's life; performing arts social impact.
Biografia dell'autore
Università Cattolica del Sacro Cuore, Milan – laura.peja@unicatt.it.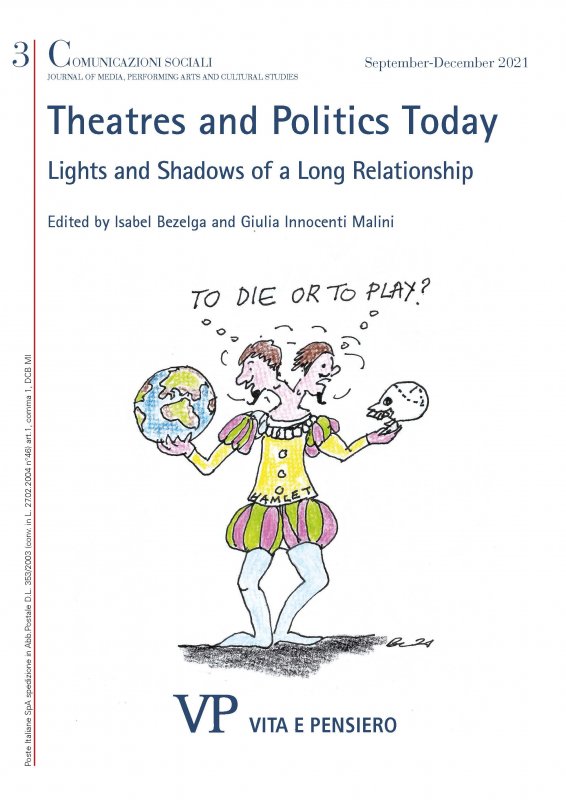 Ultimo fascicolo
Anno: 2021 - n. 3
Consulta l'archivio
Ultimi 3 numeri
Annate disponibili online
Fascicoli anno
2020