COMUNICAZIONI SOCIALI - 2016 - 3. ITALIAN QUALITY CINEMA Institutions, Taste, Cultural Legitimation
digital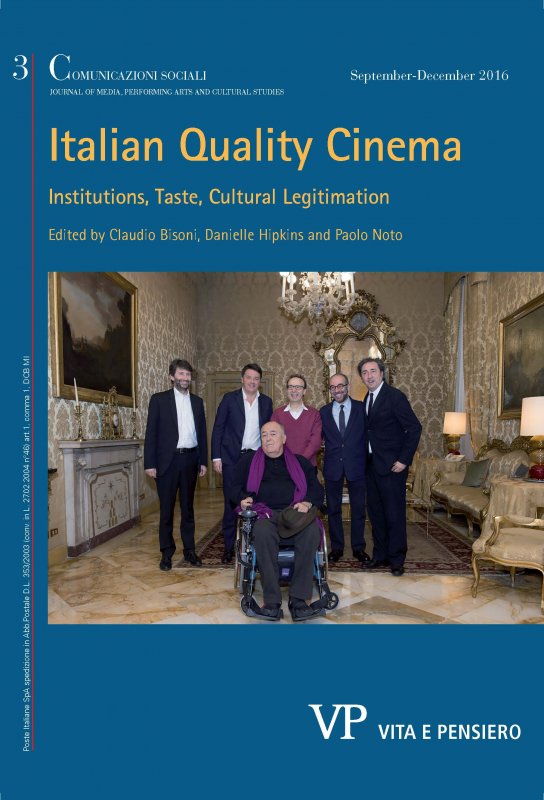 Ebook in formato Pdf leggibile su questi device:
The goal of issue 3/2016 of CS – which could hardly be more timely, due to the industrial, normative, and cultural challenges that await Italian cinema after the promulgation of the Law 220/2016 – is to define what constructs the idea of quality in contemporary Italian cinema, from 2000 up to the present.

Though related debates regarding television in Italy have adopted a meaning of the term rooted in production values, in the context of cinema this question remains opaque. In legislation, in press releases, reviews, academic studies and in common discourse the idea of quality cinema is certainly present, though it overlaps with arthouse and auteur cinema, it intersects with the notion of political commitment, and it is officially defined by the category of the 'national and cultural interest' films promoted and supported by the Ministry for Cultural Heritage, Activities and Tourism (MiBACT).

Within public discourses, quality cinema, in order to function as such, demands  processes of cultural legitimation. These processes rely upon the work of certain institutions, critical discourses and audience behavioural trends, all of which contribute –  despite (or as well as) box office takings – to the formation of taste, the construction of shared social categories and to the successful "function" of this kind of product.

Such processes are investigated in this volume, which uses a wide range of methods and considers Italian cinema in connection with other European national cinemas, as a product to be financed and marketed, as an element of the contemporary mediascape, and as a cultural asset whose value solicits the attention and intervention of different institutions.



L'obiettivo di questo nuovo numero di Comunicazioni Sociali – in uscita in un periodo che non poteva essere più appropriato, a causa delle sfide industriali, normative e culturali che attendono il cinema italiano dopo la promulgazione della Legge 220/2016 – è quello di definire ciò che sta costruendo l'idea di qualità nel cinema italiano contemporaneo, dal 2000 fino ad oggi.

Mentre nel dibattito sulla TV sta prendendo piede anche nel nostro Paese un'accezione del termine quality fondata sull'idea di production value, in ambito cinematografico la questione resta più opaca. Nei provvedimenti legislativi, nei comunicati stampa, nelle recensioni, nei saggi accademici e nei discorsi comuni l'idea di cinema di qualità, infatti, si sovrappone spesso a quella di cinema d'arte e d'autore, incrocia la nozione di impegno e ottiene una sua definizione formale nella categoria di "film di interesse culturale nazionale" promossa e sostenuta dal Ministero dei beni e delle attività culturali e del turismo (MiBACT).

Sul piano dei discorsi collettivi il cinema di qualità, per poter funzionare come tale, ha bisogno di processi di legittimazione culturale articolati, che chiamano in causa il lavoro di certe istituzioni, i discorsi critici, i comportamenti delle audience e tutto quanto contribuisce, al di là (o al di qua) degli incassi, alla formazione del gusto, alla costruzione di definizioni socialmente condivise e al "buon funzionamento" di questo tipo di prodotti.

Tali processi sono al centro di questo fascicolo, i cui articoli, utilizzando un ampio ventaglio di approcci metodologici, considerano il cinema italiano in relazione ad altre cinematografie nazionali europei, come un prodotto che richiede di essere finanziato e messo sul mercato, come un elemento del panorama mediale contemporaneo, come bene culturale il cui valore sollecita l'attenzione e l'intervento di diverse istituzioni.
Articoli che parlano di COMUNICAZIONI SOCIALI - 2016 - 3. ITALIAN QUALITY CINEMA Institutions, Taste, Cultural Legitimation: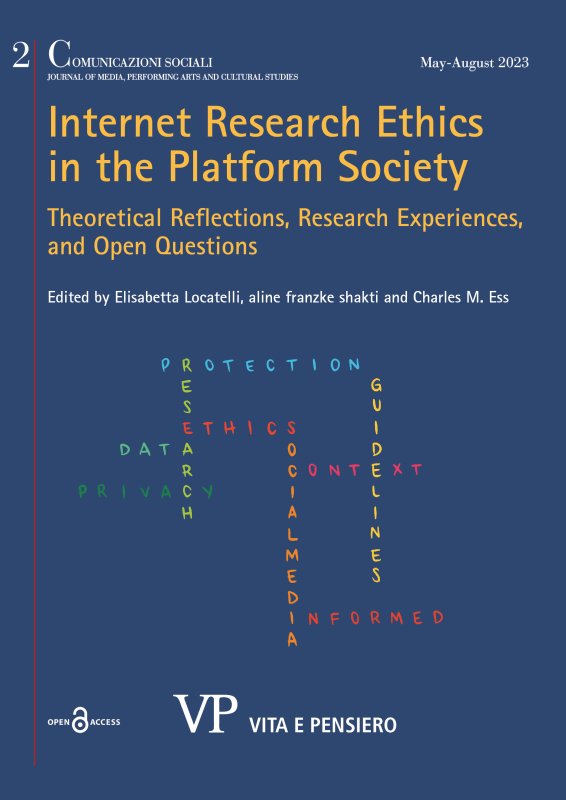 Ultimo fascicolo
Anno: 2023 - n. 2
Consulta l'archivio
Ultimi 3 numeri
Annate disponibili online
Fascicoli anno
2016