Call for Papers "Migrations / Mediations. Promoting transcultural dialogue through media, arts and culture"
Call for papers
"Comunicazioni Sociali. Journal of Media, Performing Arts and Cultural Studies"
Special Issue
Migrations / Mediations. Promoting transcultural dialogue through media, arts and culture
eds. Pierluigi Musarò, Nikos Papastergiadis, Laura Peja
(n. 1/2022, due in April 2022)
Migration has been a phenomenon throughout human history. However, as a result of economic hardship, conflict and globalization, the number of people now living outside their country of birth is higher than ever. It has also become a key focul point for the media. Even though irregular immigration constitutes only a minor part of the total immigrant population in the EU, it is the one most spectacularized by the media. This over-mediatization of the phenomenon leads to a consistent discrepancy between the perception and the reality of the issue, and this distance has favored the shift of migration issues from 'low politics' to 'high politics', fueling an emergency management and a securitarian approach.
We live in a deeply mediatized world. Media have an important role in influencing political attitudes and in framing public debates towards migration and asylum. In the last decade, the representation strategies and discursive practices enacted by a wide range of state and non-state actors have been presenting irregular migrants crossing borders as an 'emergency' to be managed in terms of a wider social, cultural and political 'crisis'. These media representations have outstripped the reality of the crisis. As a consequence, the public anxiety about migration and asylum-seeking in Europe, is increasingly shaped by the political rhetoric of Europe as being besieged by people fleeing conflict or seeking a better life. Institutional and political actors have stoked public anxieties and security concerns, endorsing emergency narratives, aggressive policing and militarized border control, which in turn has generated a fertile breeding ground for xenophobic, populist reactions.
On the other side, it is now widely recognized that culture, media and the arts have been transformed by migration and mobility. These recent cultural and aesthetic transformations have offered another way of seeing identity, politics and society. The EU Member States and the EU itself, have been summoned to meet these challenges. There has been growing recognition of the ways in which media, the arts and performative practices are able to facilitate intercultural dialogue among migrant and host communities – thereby empowering their participation in social life –, and to promote an understanding of the affirmative role of cultural diversity (different ethnic, cultural, religious and linguistic backgrounds and heritage) within European societies, and also of the need to question the boundedness of identities and cultures. These critical processes lead us to address the possibilities of a transcultural dialogue - one that opens up the ideas of belonging and sets up new positions for speaking that do not intersect with ethnic and national identities.
Media, performing arts and culture can foster innovative practical actions, and also alternative imaginaries on social phenomenon and spaces of collective participation. Indeed, different "liberal" and "applied" arts (film, theatre & performance, photography, crafts, architecture, design, etc.) as well as emerging cross-media forms (interactive and social media, games, street art, circus and performative practices, etc.), have a pivotal role to play in this direction.
Despite this high potential for opening up new perspectives the policies in the EU are caught in old traps: national cultural policies affect cultural productions by institutionalizing the process of othering through rhetorical discourses and hegemonic representations; the projects and practices in this field are often vital but fragmented and contained within specific areas and territories; the skills and professional figures associated with these processes are poorly defined and have no particular training centres; and finally, the evaluation methods of the initiatives are variable and lack consistent protocols. The combination of all these factors produces a fundamental weakness in a sector that in any case, remains extremely lively and promising.
On this basis, this special issue of Comunicazioni Sociali intends to invite international scholars, artists and practitioners to discuss through interdisciplinary and transdisciplinary perspectives 1) the role of media, arts and culture in the management of policies and practices devoted to migration phenomena; 2) the ways and the degrees in which media, arts and culture have been considered as critical tools for transcultural dialogue; 3) the ways in which media, arts and culture have been used in processes of artistic creation within the framework of the "aesthetic cosmopolitanism"; 4) ways through which models of action in territories oriented toward bringing host populations into contact with migrants and refugees can be developed; 5) the specific set of tools and methodology that have been developed to assess social, cultural and economic impact of multi-, inter- and transcultural dialogue activities through arts, media and culture.
We invite abstracts on any of the following topics, but not exclusively*:
Practices of empowerment of multi-, inter- and transcultural dialogue through media, arts and performative activities.
Practices of media and performing arts as challenging spaces of dialogue, resistance and activism.
The role of immigrant/diaspora/minority media.
Participatory media and arts projects devoted to working directly with refugee and migrant groups in socially engaged practice.
Audience development strategies aiming at promoting cultural diversity.
Employment opportunities for migrants in cultural and creative industries.
Comparisons between the approaches of public and private media.
Practices and experiences in assessing projects in the field of multi- inter- and transcultural dialogue
* Please note this is not an exhaustive list of topics, and we will review any abstracts related to the media and migration/immigration/transculturalism and associated topics. Especially welcome are submissions rooted in media studies, visual, performance and cultural studies, critical data studies, postcolonial studies and from scholars who build bridges between academia, arts, policy, media system, public debate, and stakeholders' networks.
Submission details
Proposals in English (between 300 and 400 words of length, excluding bibliography) are required to illustrate the objectives of the paper, the research question and the methodology adopted. They have to be sent, with a short biographical note, to redazione.cs@unicatt.it; pierluigi.musaro@unibo.it; laura.peja@unicatt.it, by June 1st, 2021 —.
Authors will be notified of proposal acceptance by June 15th, 2021.
If the proposal is accepted, the author(s) will be asked to submit the full article, in English, by October 1st, 2021.
Submission of a paper will be taken to imply that it is unpublished and is not being considered for publication elsewhere.
The articles must not exceed 5,000/6,000-words.
Contributions will be submitted to double blind peer reviews.
The issue number 1/22 of Comunicazioni Sociali will be open access, and will be published in April 2022.
"Comunicazioni Sociali" is indexed in Scopus and it is an A-class rated journal by ANVUR in: Cinema, photography and television (L-ART/06), Performing arts (L-ART/05), and Sociology of culture and communication (SPS/08)
Articolo letto 2278 volte.
Inserisci un commento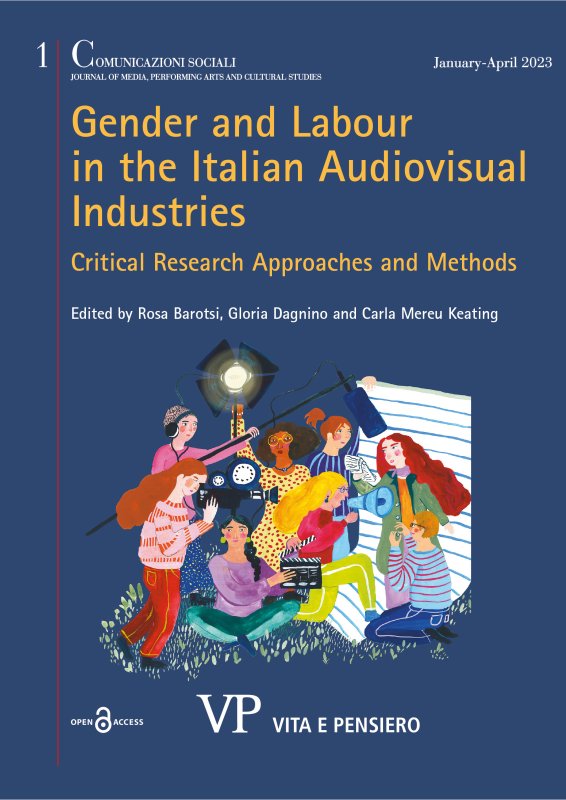 Ultimo fascicolo
Anno: 2023 - n. 1
Consulta l'archivio
Ultimi 3 numeri
Annate disponibili online
Fascicoli anno
2023