Nuova scadenza (10 marzo 2020) Saving the Planet Bit by Bit: Environmental Communication in the Digital Age
Call for Papers
Saving the Planet Bit by Bit: Environmental Communication in the Digital Age

Edited by Matteo Tarantino, Sara Sampietro & Serena Fossati
Deadline for abstract submission (500 words): March 10, 2020
The relationship between communication and environmental sustainability has come to the forefront in recent years with renewed impetus. The explosion of Internet-connected devices and the dramatic challenge (and visibility) of climate change have deeply impacted how we communicate environmental risk, stimulate behavioral changes, coordinate individual and collective environmental action and monitor environmental governance. Massive amounts of environmental information of unprecedented quality and resolution are made available  by technological, social and legal innovations; at the same time, long-standing issues – such as public trust in environmental communication or the uncertain ability of communication itself to stimulate behavioral change in individual and collective subjects – not only remain on the table but appear heightened and complexified by the new context. 
This special issue of Comunicazioni Sociali – Journal of Media, Performing Arts and Cultural Studies intends to offer an in-depth exploration of the present situation of the environment/communication nexus. We are particularly interested in how "sustainability" is conceptualized and communicated by different social actors, how new forms of trust, cooperation and conflict are negotiated through the digital, and how digital communication plays a role in fostering or hindering modifications in practices and behaviors.
Potential foci of interest include (but are not limited to):
a) Communication of competing notions of key concepts such as sustainability, ecology, environment, pollution, environmental protection etc. 
b) Historical approaches to the evolution of environmental communication, showing continuities/discontinuities with the present situation.
c) How environmental risk is communicated and negotiated among various social actors; how trust is negotiated among parties; and the feedback of these forms of communication on social actors' representations and practices.
d) The role of communication and information in issues of power and governance related to environmental matters, including relationships between top-down and bottom-up agencies, center-periphery dynamics, activism, policymaking, enforcement of norms and standards, risk communication to citizens, and so on. 
e) The role of environmental communication in the reconfiguration of subjects' behaviors and practices, including the role of online communities and celebrities.
f) The role of environmental communication in fostering or combating forms of social, economic and political inclusion/exclusion.
Articles from the fields of communication and information studies, humanities, geography, social sciences and environmental sciences are welcome; innovative and cross-disciplinary approaches are especially valued. All articles will be subject to double-blind peer-reviewing. Maximum length of contributions is 6,500 words. We aim to publish 8-10 contributions. The language of the special issue is English.
Instructions for Authors
Please submit abstracts (500 words, including research question, methods and main outcomes, plus 200-word authors' bios in the same document) using this link: https://www.dropbox.com/request/4bPVVTn276vBR2D4M8WT.
For any issues write to matteo.tarantino@unicatt.it, stating "ABSTRACT FOR COMUNICAZIONI SOCIALI" as the subject.
Acceptance will be notified by March 15, 2020 via email. Deadline for full paper submission is May 1, 2020. 
Articolo letto 1322 volte.
Inserisci un commento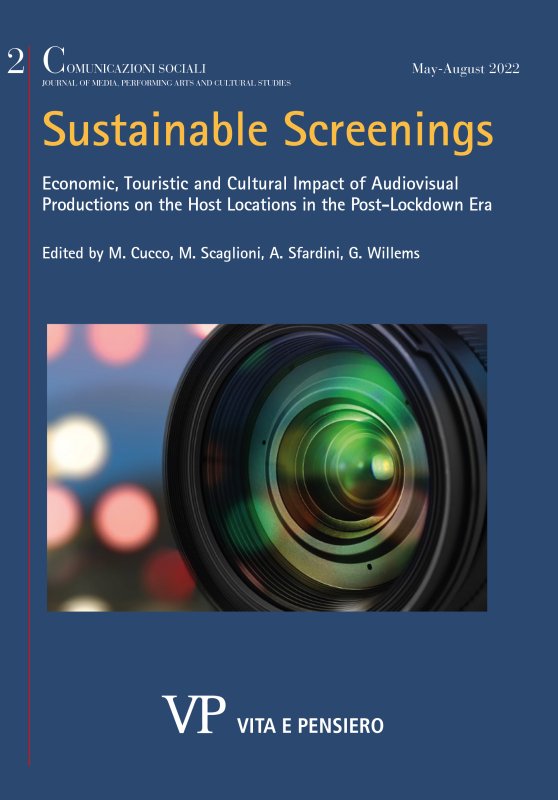 Ultimo fascicolo
Anno: 2022 - n. 2
Consulta l'archivio
Ultimi 3 numeri
Annate disponibili online
Fascicoli anno
2022