The Children Are Watching Us. Exploring Audiovisual Content for Children
Comunicazioni Sociali — Journal of Media, Performing Arts and Cultural Studies
The Children Are Watching Us. Exploring Audiovisual Content for Children
Edited by Raffaele Chiarulli, Armando Fumagalli, Eva Novrup Redvall
Audiovisual content for children and young people has always been a very important sector within the creative industries from an economic and social perspective. For this reason, early mass communication theories already addressed the not easy topic of the relationship between young people and the media, to which academic studies have continued to pay some attention, with increasing incidence in recent decades, evaluating it from various aspects. In fact, the media landscape in which we live offers the youngest viewers a wide range of products, which is even more difficult to monitor and circumscribe due to the way in which consumption times and practices have become jagged and fragmented, with the use of the newest and multiple technical devices.
Reflection on this subject has seen various approaches adding to each other over time, according to a multidisciplinary perspective that traditionally besides media studies, sees also psychology and pedagogy as fundamental, moving along an axis ranging from theories on media effects to media education. In search of interpretative and analytical grids, more research has thus been done trying to define the traits of film and TV genres dedicated to children and young people and their educational, informative or entertainment purposes.
Alongside these strands, according to very different perspectives, other strands have been developing. One of the most important of them is related with animation studies, which has also had the merit of disengaging the animation sector from the idea that it was a uniform genre, to be juxtaposed to the other classical genres in a systematic taxonomy. These approaches have made it possible to express, through narratological and aesthetic theories or from a historical point of view, a very complex reality, full of implications that are not only pedagogical and social but also attentive to authorial poetics, technological developments and market demands.
Finally, in academic studies on the relationship between audiovisual products and children and young audiences, particular attention has recently been given to the screenplay component (Redvall and Christensen 2021), as the first moment of the creative process in which to meet the challenges of today's media market and a cross-media context, measuring against competition in terms of both content choices and storytelling methods. 
Starting from these considerations, this special issue of Comunicazioni Sociali invites international scholars to submit theoretical reflections on the different narrative and aesthetic approaches and strategies related to products for children and adolescents, analyses of individual products, case histories or interviews with creatives and producers. We invite abstracts from different research perspectives (Animation Studies; Media Industry Studies; Sociology; Screenwriting Studies; Film and TV Studies and more) that address the following and/or other topics:
The relationship between practice, theory and professional discourses about content and programs for children and young audiences.

Understandings of childhood and notions of how to create quality content for children in film, public service television and other contexts.

Animation Studies/animation practice as a recognizable knowledge area

Animation's interdisciplinary status

Animation industries.

The relations between literature for children and audiovisual products.

Animation pedagogy and archives.

Screenwriters with a focus on writing for children and young audiences.

Historical as well as current case studies of individual creative processes for children and young audiences

The teaching of how to create and write stories for children and young audiences in different contexts
Submission details
Please send your abstract and a short biographical note by February 10, 2023 to:
Abstracts should be from 300 to 400 words of length (in English). All submissions should include: 5 keywords, name of author(s), institutional affiliation, contact details and a short bio for each author. Authors will be notified of proposal acceptance by March 3, 2023.

If the proposal is accepted, the author(s) will be asked to submit the full article, in English, by May 31, 2023. 
Submission of a paper will be taken to imply that it is unpublished and is not being considered for publication elsewhere.
The articles must not exceed 5,000/6,000-words (including references)
For editorial guidelines, please refer to the section "Guide for the authors" on the Comunicazioni sociali website: http://comunicazionisociali.vitaepensiero.com

Contributions will be submitted to a double blind peer review process.
The issue number 3/2023 of "Comunicazioni Sociali" will be published in December 2023. It will be available in open access on the journal website.
"Comunicazioni Sociali" is indexed in Scopus and it is an A-class rated journal by ANVUR in: Cinema, photography and television (L-ART/06), Performing arts (L-ART/05), and Sociology of culture and communication (SPS/08).
Articolo letto 841 volte.
Inserisci un commento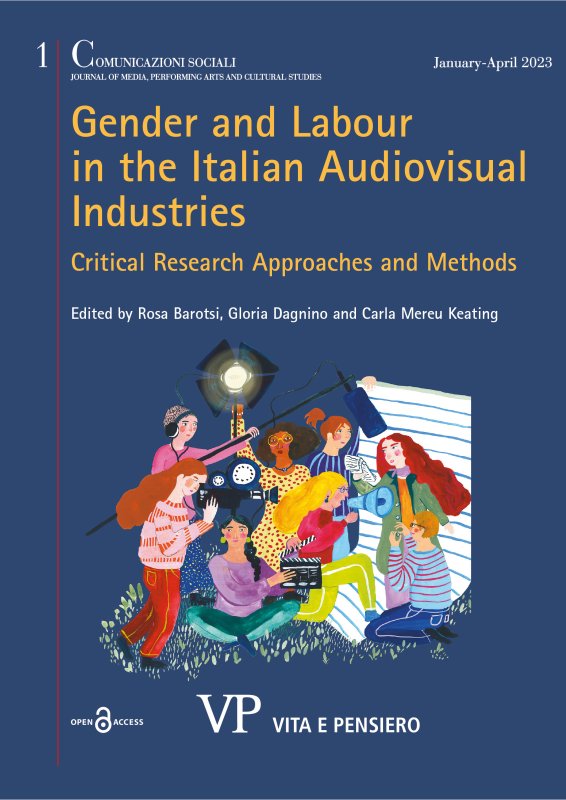 Ultimo fascicolo
Anno: 2023 - n. 1
Consulta l'archivio
Ultimi 3 numeri
Annate disponibili online
Fascicoli anno
2023